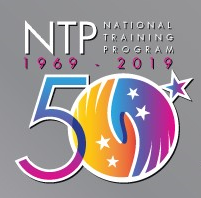 For more than 50 years, the National Training Program (NTP) has given attendees the very best in skill-building content, covering all aspects of instructor-led training. I am so excited to invite you to the 50th NTP program "Celebrating 50 Years of Training: Encourage, Empower and Elevate." The NTP facilitate the mission of FEW through providing professional growth opportunities to attendees along with a multitude of self-development tools. It's not too late to register and be a part of this premier training event in Philadelphia July 22 – 26, 2019.
If you have never been to an NTP, I encourage you not to miss this program. Rarely are we provided transformational opportunities in life to elevate ourselves with phenomenal training, but this is your opportunity. Warren Bennis said, " The most dangerous leadership myth is that leaders are born-that there is a genetic factor to leadership. This myth asserts that people simply either have certain charismatic qualities or not. That's nonsense; in fact, the opposite is true. Leaders are made rather than born." This is your opportunity to get the training necessary to make a greater contribution to your teams. Training is not an option for Agencies to stay on top of trends, it's mandatory.
At this NTP, we will have with us several enlightening speaker and special guest. The entire week will consist of dynamic keynote addresses including some from our most notable Agency leaders. In fact, you don't want to miss our Opening Keynote, Ms. Barbara M. Littles, CEO of Purpose by Design Company who will invigorate your mind to become an insightful strategic negotiator in your career. Anything is possible. Our closing Diversity Luncheon keynotes are Mr. Bruce Stewart, the former Deputy Director Training, Compliance, and Strategic Initiatives in the Office of Diversity and Inclusion for the Office of Personnel Management (OPM) and the Mr. Miguel J. Avilés-Pérez, Chief, Office of Diversity & Inclusion with the U.S. Coast Guard. They are strong advocate for our focus of Diversity as they are a wealth of knowledge and so passionate about creating diverse, inclusive working environments.
It will be an awesome week of training and awareness. In fact, for our special awareness initiative FEW will recognize heart disease. Millions of Americans live with heart disease, stroke or a cardiovascular condition. 1 in 3 women die of heart disease and stroke. But, it can be prevented. At the NTP, we will provide tips and inspiring stories of success. FEW declares Tuesday, July 23, 2019 a day to wear red in honor of heart disease. Join us in solidarity and support of this effort to prevent heart disease.
The NTP is where we encourage, empower and elevate your career and innate skills. Take this opportunity to build upon the greatness within you. Visit our webpage to get started and registered.
Karen M. Rainey
National President