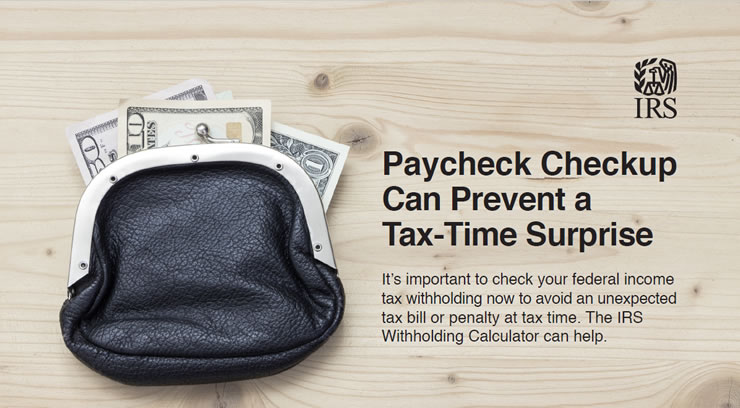 Everyone should check their withholding. Due to tax law changes, it's especially important to check now if you:
Are a two-income family
Have two or more jobs at the same time
Work a seasonal job or only work part of the year
Claim credits like the child tax credit
Have dependents age 17 or older
Itemized your deductions on your 2017 return
Have high income or a complex tax return
Had a large tax refund or tax bill for 2017
Use the IRS Withholding Calculator to do a Paycheck Checkup
The IRS Withholding Calculator helps figure out if you should submit a new Form W-4 to your employer.
Have your most recent pay stub and federal tax return on hand.
The calculator's results are only as accurate as the information you enter.
Find the IRS calculator at IRS.gov/withholding.
Publication 5303 (6-2018) Catalog 71495F Department of the Treasury Internal Revenue Service www.irs.gov
Please Dial-in Number (US): (641) 715-3580 (for audio)
Access Code: 128732 #
Join the Online Meeting: https://join.freeconferencecall.com/few_webinars (to view the presentation)
ease be sure to take the time and check your withholding. We will also be holding a webinar in the near future so please check the FEW website and your email for a webinar update!