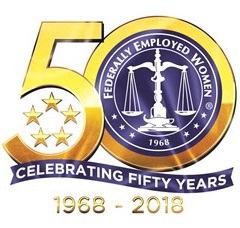 Federally Employed Women's (FEW) National President and I, as Vice President for Membership and Chapter Organizations, challenge all members to join us as we commemorate and celebrate FEW's 50th Anniversary in 2018. For 50 years, FEW has maintained inexpensive membership dues in order to reach a broad base of members and to provide a cost-effective organization for anyone who supports the mission and vision of FEW.
FEW currently has three membership levels: Regular ($45 annually), Lifetime (one-time fee of $300) and Diamond Lifetime (must have paid the Lifetime membership fee and then an additional one-time fee of $200). As many of you heard during the 2017 National Training Program's Closing Luncheon, we have already gained 50 new members. We want to encourage 50 current members to consider upgrading their membership to Diamond Lifetime membership. National President, Wanda Killingsworth, became the first Diamond Lifetime member under the new membership cycle (July 1, 2017 – June 1, 2018). Let's add 49 more in the coming months so that we have yet another proud investment to announce during our 50-year celebration.
You may upgrade your membership by logging onto the FEW website at www.few.org, then clicking on My Account. If you'd rather upgrade your membership by mail, please fill out the Lifetime/Diamond Lifetime Application by clicking here.  Follow the instructions for where to mail the completed application along with your check or money order. On page two of the application, you will find an explanation of the eligibility for Lifetime and Diamond Memberships. If you have any questions, please contact Suzi Inman, Vice President for Membership and Chapter Organization, at membershipVP@few.org.
We look forward to your continued investment in FEW!
Diamonds Are Forever!
Wanda V. Killingsworth
National President
Federally Employed Women
Suzi Inman
Vice President for Membership and Chapter Organizations
Federally Employed Women