March marks Women's History Month and this year the Women's History Alliance has chosen as the theme: "Valiant Women of the Vote". We celebrate "the brave women who fought to win suffrage rights for women and the women who continue to fight for the voting rights of others". This year marks the centennial of the 19th Amendment, which gave women the right to vote. In addition to the many women who fought in the nineteenth and early twentieth centuries to secure voting rights for women, there are many women who continue the fight through the era of poll taxes, literacy tests, voter roll purges and other modern forms of voter suppression.
The national Women's History Alliance lists their Honorees at this link: https://nationalwomenshistoryalliance.org/2020-honorees/.
Living honorees include Maria Teresa Kumar, CEO of Voto Latino, Eleanor Holmes Norton, Civil Rights Leader, Congressperson, Lawyer and Organizer, Terry Ao Minnis, Senior Director of the Census and Voting Programs. Asian Americans Advancing Justice, and Edith Mayo, Suffrage Historian and Women's History Movement Activist.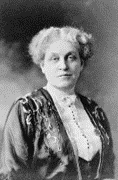 Among the deceased honorees is Carrie Chapman Catt, for whom a Mid Continent Region FEW chapter is named. She was an activist from Iowa who trained under Susan B. Anthony and succeeded Miss Anthony as president of the National American Women Suffrage Association (NAWSA). More detailed biographies of all the honorees can be found at the link supplied above.
If you happen to be in the DC area this month, there are a number of exhibitions concerning Women's History Month available at locations including the Smithsonian, the National Archives, and the Library of Congress. Details can be found at this website: https://womenshistorymonth.gov/. We encourage you to seek exhibits and events in your area as well.
---
Resources: