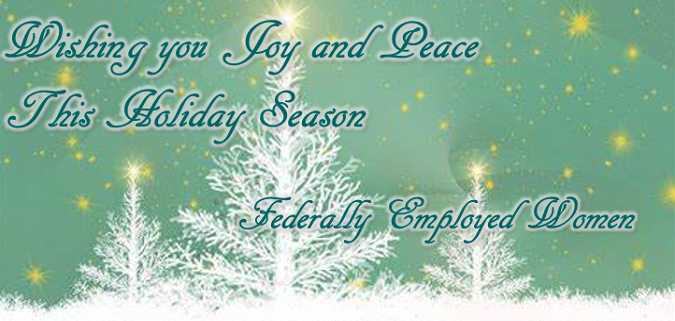 As we enter this holiday season, my wish is that we all have a spirit of joy and happiness and remember what is most important to all of us – people. As 2020 draws to a close most of us are in the midst of preparations for the season's festivities, I hope that you will share yourself as gift of love and compassion with our government community, family and friends by practicing social distancing. I wish you health this holiday season and a break from the hustle and bustle of our everyday working schedules. I urge each and every one of us to reflect on these special moments and savor the relationships that we have nurtured to cherish over the years.
Being elected as National President of Federally Employed Women for a second term is by far the highest honor of my professional career and one of the most astounding. At the same time, this year has been one of some sadness as we have lost a number of wonderful members in our community and also some dear friends are going through some difficult situations within their family environments. While keeping with the spirit of this joyous time, it is equally important to take a few moments and recall these other events and keep these people in our thoughts and our prayers. FEW cares and believes you will soar again.
I would like to take this opportunity to thank the Administration staff of the CMA for the tremendous effort they put in day in and day out to make sure that our members are well looked after. Many of us do not see all the demands placed on our office, but their work is greatly appreciated. I know that the small investment in transitioning our office with CMA will lead FEW into a bright and new future.
To the National Board members, I thank them for their dedication to the success of the FEW and for their tremendous input to the proper governance of our organization. I also wish to acknowledge the participation of our Regions and Chapters membership. You have committed endless hours of volunteer time to make sure our members are provided with opportunities to continue learning, to network and socialize with other credit professionals for opportunities in career advancement and pay equity.
Lastly, to everyone invested with FEW, my sincere appreciation for your support of FEW and the pride you demonstrate each day at representing this elite organization "Working for the advancement of women in the government". You are the source of the strength of FEW and make my job satisfying and easy. My wish is for you is a holiday season exceptionally good and safe and that the New Year brings you much health, happiness and prosperity.
Karen Rainey
President