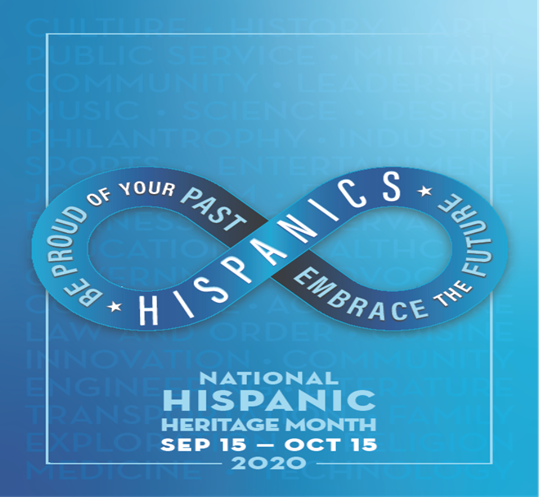 National Hispanic Heritage Month, an annual celebration of the culture and proud history of Hispanic Americans, is observed from September 15 – October 15. This year's National theme is "Hispanics: Be Proud of Your Past and Embrace the Future." September 15 signifies the day Costa Rica, El Salvador, Guatemala, Honduras, and Nicaragua achieved independence from Spain. Mexico and Chile also commemorate their independence days this month (September 16 and September 18).
Hispanics are the largest minority group in the United States with an estimated 16.7 percent (52 million) of Americans claiming Hispanic descent in 2020. This time last year, Hispanic Heritage Month was celebrated with in-person festivals, programs, and activities. Today, in the midst of a global pandemic, we must look beyond the festivities to find meaningful ways to honor Hispanic traditions and especially those that bolster cultural understanding and embrace our country's diversity. As the world adjusts to change, embracing and safeguarding the history behind rich tradition is important, now more than ever, for future generations.
In spite of our current restrictions, Latinos continue to advance communities across the country as small business owners, veterans, teachers, athletes, and public servants, among many other professions. National Hispanic Heritage Month allows us to recognize their contributions and influence in the history, culture, and achievements of the United States.
Please discover ways to celebrate National Hispanic Heritage Month through virtual programs and cultural activities throughout the month, as much work goes into creating content that is informative, educational, and engaging.
Vivo Hispanic Heritage Month!