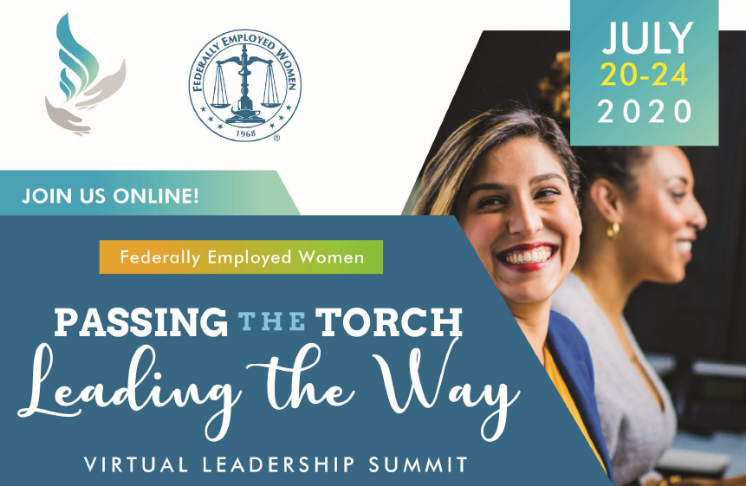 Greetings FEW Members and Friends of FEW,
It is in times of darkness when we show ourselves as adaptable and strong.  The National Board of Directors (NBOD) and I are pleased to announce the first Virtual Leadership Summit for government employees scheduled for July 20 – 24, 2020.  This training is just for you; no per diem, no travel, just TRAINING at a low registration rate!
Following increased and overwhelming concerns about the COVID-19 virus, FEW remains resolved that your safety is our priority and the best way to proceed during such an unprecedented global situation was to cancel an on-site event. As the world continues to change, we will continue to adapt.  FEW will always rise to the challenge and continue to help federal workers achieve excellence in their careers and create new opportunities.
That is why we adjusted our plans to host a Virtual Leadership Summit.  This is an example of leadership at its best – a full week of training with specialized tracks for EEO, HR, Project Management, Management and Leadership professionals. This training is about you and our purpose is to connect you to the right resources for development and career advancement.  The Summit consists of over 24 specialized courses a day to motivate you to take that next bold step. All courses align with the Office of Personnel Management (OPM) Executive Core Competencies (Leading People, Leading Change, Business Acumen, Result Driven and Building Coalitions).
We will be continually updating information regarding course selections, and special events, just to name a few, so keep checking in for updates.
So, make sure you join us and take advantage of all that we have to offer! I promise it will be your best personal and professional investment of the year!