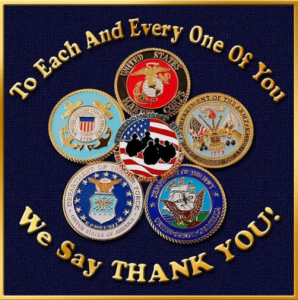 Each day, thousands of Americans participate in the defense of our country as part of the armed forces. Each day, we are grateful for their service in protecting us and our way of life, their sacrifice in giving of their time and livelihood, and their dedication to a cause greater than themselves.
We are privileged that Federally Employed Women has welcomed many current service members and Veterans as members. We especially honor them on Veterans Day and every day.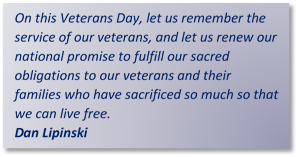 This year, in addition to expressing your gratitude to the veterans you know, why not consider participating in Military Holiday Card Drive for those who have and are giving so much to us.  If you wish to participate, please send your cards and/or letters to the FEW National Office at 455 Massachusetts Avenue, P.O. Box 306, Washington, DC  20001, and we will forward them to the Military Missions Inc. for distribution to those who serve.  We will be collecting cards and letters from Veterans Day until December 15, 2019 so you may also provide holiday wishes.
Thank you to our Veterans!
---
Tips for Cards
(from https://military-missions.org/care-packages/cards/)
We put 10 to 15 personalized cards and letters in each box. Your messages are the most important part of the package!  If we send out 8,000 care packages in a year, this means we need 80,000 cards. Recruit friends and family to make cards and write letters.
Here are a few ideas to get you started:
Buy a box of greeting cards, write a note of encouragement to our troops and send them to us to be included in our packages.
Fold a piece of paper in half and make your own card.  We would love for schools, churches, and clubs to have their children spend a few minutes making cards.
Write personal letters that can be included in the packages.  A great way to start your letter is "Dear Service Member" or "Dear Friend".
Do not put a date on them because they will be sent all during the year.
We do not need the envelopes, only the cards.
We can only accept Christmas cards during October, November and December. During the other months, please use non-holiday or patriotic themed cards.
Card & letter writing tips:
Be positive and upbeat
Be thankful
Feel free to share a little info about yourself like hobbies, pets, etc.
Talk about things happening around home like the weather, sports, etc.
They love your drawings but do NOT use glitter (They can actually get in trouble if glitter is on uniform/items.)
Do not discuss inappropriate things
Avoid politics or political statements
Avoid lengthy religious discussions, but saying you are praying for them is great